Pretty simple. What are your favorite works of science fiction and/or fantasy? Any medium goes.
___________________________________________
"I do not know what I may appear to the world, but to myself I seem to have been only like a boy playing on the sea-shore, and diverting myself in now and then finding a smoother pebble or a prettier shell than ordinary, whilst the great ocean of truth lay all undiscovered before me." - Isaac Newton
Admin





Posts

: 22


Join date

: 2014-06-15


Location

: Lexington, Kentucky



You knew this was coming

Without a doubt, my favorite work of Science Fiction of all time are the novels and tales of Issac Asmiovs
Foundation
universe.
From Wikipedia
:
The Foundation series is a science fiction series by Isaac Asimov. Seven volumes are in the Foundation series proper, which in its in-universe chronological order are Prelude to Foundation, Forward the Foundation, Foundation, Foundation and Empire, Second Foundation, Foundation's Edge, and Foundation and Earth.

The premise of the series is that the mathematician Hari Seldon spent his life developing a branch of mathematics known as psychohistory, a concept of mathematical sociology (analogous to mathematical physics). Using the laws of mass action, it can predict the future, but only on a large scale; it is error-prone on a small scale. It works on the principle that the behaviour of a mass of people is predictable if the quantity of this mass is very large (equal to the population of the galaxy, which has a population of quadrillions of humans, inhabiting millions of star systems). The larger the number, the more predictable is the future.

Using these techniques, Seldon foresees the imminent fall of the Galactic Empire, which encompasses the entire Milky Way, and a dark age lasting 30 thousand years before a second great empire arises. Seldon's psychohistory also foresees an alternative where the intermittent period will last only one thousand years. To ensure his vision of a second great empire comes to fruition, Seldon creates two foundations—small, secluded havens of all human knowledge—at "opposite ends of the galaxy".

The focus of the series is on the First Foundation and its attempts to overcome various obstacles during the formation and installation of the Second Empire. All the while (and often unknown to its major actors), it is being silently guided by the unknown specifics of the Seldon plan.

The series is best known for the Foundation Trilogy, which comprises the books Foundation, Foundation and Empire, and Second Foundation. While the term "Foundation series" can be used specifically for the seven Foundation books, it is also used more generally to include the Robot series (four novels) and Empire series (three novels). These seven books are set in the same fictional universe as the initial seven, but in earlier time periods. If all works are included, in total, 14 novels, as well as dozens of short stories, were written by Asimov. Also, seven novels were written by other authors after Asimov's death, which expand the time spanned in the original trilogy (roughly 550 years), by more than 20 thousand years. The series is highly acclaimed, and the Foundation Trilogy won the one-time Hugo Award for "Best All-Time Series" in 1966.
Loads of interesting themes, concepts, and technologies. Arguably
the best all-time SF series
.
___________________________________________
Moderator





Posts

: 8


Join date

: 2014-06-16


Location

: Cooltopia



I'm not overly frequent with works of sci-fi, I'm more of a fantasy kind of person.
I would say my favorite sci-fi type novel would have to be The Time Machine by H.G. Wells. I love time travel in fiction. One of my favorite TV shows is Doctor Who, which also deals with time travel. I prefer soft sci-fi as opposed to hard sci-fi although I wouldn't be opposed to reading some if someone recommended something good to me.
Now, for fantasy. Obviously, all of Tolkien's works are very near and dear to me, but my current favorite fantasy series is A Song of Ice and Fire by George R.R. Martin. (I'm also a fan of the HBO adaptation of the novels.) I love the characters and the multiple viewpoints and the way that it becomes difficult to pinpoint one exact villain when you see it from their point of view. It has kickass ladies, knights, wars, magic, gods, evil gods, warrior tribes, all set within a really interesting world. Naturally the worldbuilding doesn't match Tolkien's, but I find it intriguing. Also, dragons. C'mon. Dragons.
I'm also a fan of the Harry Potter series, which essentially shaped my childhood. Reppin' Slytherin since age 7.  

___________________________________________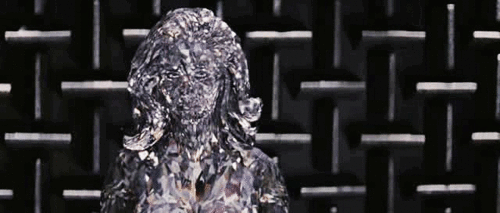 "Of course I'm a threat. Did you think for a moment that I wasn't?"
Moderator





Posts

: 4


Join date

: 2014-06-16


Location

: Mooseland




---
Permissions in this forum:
You
cannot
reply to topics in this forum